Guests
Autograph Guidelines
Each person is limited to two items to be signed.
A guest may decline to sign any item they wish.
Guests will do their best to sign items for as many people as possible. But there is no guarantee they will be able to make it through the entire line.
Please have items to be signed ready when you approach the front of the line.
If you would like a photo taken, please have your camera or phone out and ready when you approach the front of the line. A Kumoricon staff member will then be able to take pictures while the guest is signing for you.
Cassandra Lee Morris
Voice Acting Guest of Honor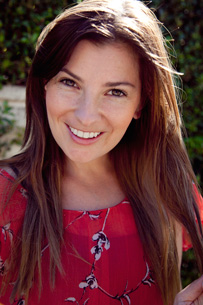 Cassandra Lee Morris is an award-winning voice actor most recognized for her work in anime, video games, and audiobook narration. Her roles as Yubel, Leo, and Luna in the Yu-Gi-Oh! franchise made her an instant fan favorite, and she is most excited about her latest lead (Suguha/Leafa) in Toonami's Sword Art Online. Cassandra is also one-half of the DJ duo Kittypillaz, which infuses face-melting beats with pop culture faves to bring fans the ultimate music and dance experience. Cassandra has met fans from Charlotte, NC to Adelaide, South Australia, and would love to be your special guest, too.
Notable anime credits include Suguha/Leafa in Sword Art Online, Kyubey in Madoka Magica, Ritsu in K-On!, Yubel in Yu-Gi-Oh! GX, Leo and Luna in Yu-Gi-Oh! 5D's, Noriko Paku and Nee in Blue Exorcist, and Saki Mikajima in Durarara!!. Notable video game credits include Nami in League of Legends, Sophie in Tales of Graces F, Lei Fang in Dead or Alive 5, Hitomi in Soul Hackers, Totori in Atelier Totori: The Adventurer of Arland, and Gust in Hyperdimension Neptunia. Notable audiobooks include the Pretty Little Liars series, The Lying Game series, the Gossip Girl series, plus over 100 more.
David Vincent
Voice Acting Guest of Honor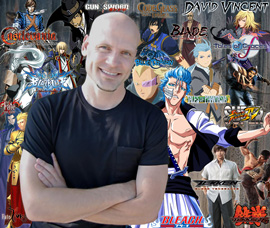 David Vincent is a professional voice actor and television producer based in Los Angeles, California. He has lent his voice to a variety of animation, anime and video game titles, as well as numerous national commercials for television and radio.
Some of his best known animation credits as seen on Cartoon Network include Grimmjow Jeagerjaques and Kouga Kuchiki in the hit series Bleach, and Code Geass as Li Xingke. Other animation credits are Archer/Gilgamesh in Fate/Zero, Assassin in Fate/stay night, Van in GUNxSWORD, Seiji in Durarara!!, Arthur Auguste Angel in Blue Exorcist, Daisuke Nagase in Persona 4, Kekkaishi as Sakon, Chester Barklight in Tales of Phantasia, General Logi in Blue Dragon, and Giichi in Blade of The Immortal.
Some of his more recent video came credits include Jin Kisaragi and Hakumen in the hit series BlazBlue, Raymond Vester in Resident Evil: Revelations, Marshall Law and Forest Law in the smash hit video game franchise Tekken, Shin Kamiya in Tekken: Blood Vengance, Eliot in Dead or Alive 5, Final Fantasy: The Crystal Bearers as Keiss, Super Street Fighter IV as T. Hawk, Medal of Honor as Morgan, The Last Remnant as Blocter, Infinite Undiscovery as Edward, Castlevania: The Dracula X Chronicles as Richter, and Richard in Tales of Graces F. Other titles include Halo 4, Soul Calibur, Fire Emblem Awakening, Spec Ops: The Line, Alpha Protocol. He has many more new titles to be released this year.
In addition to voice acting, David has also appeared in front of the camera in guest and co-starring roles on prime time television shows NCIS, Criminal Minds, and The Mentalist, among others.
Please feel free to say hello to David and friend him on his Facebook at www.facebook.com/davidvincentva or join his fan club at https://www.facebook.com/groups/DavidVincentsWindorPanthers/.
Christopher R. Sabat
Voice Acting Guest of Honor
Christopher R. Sabat has lived on a diet of Senzu Beans for nearly 15 years. As the voice director for Dragonball Z as well as the actor behind Vegeta, Piccolo, Yamcha, Mr. Popo, Kami, Jeice, Recoome, Korin, Burter, Shenron, Zarbon, Guru, Porunga, and countless others, you could possibly say he is the voice of Dragonball Z. Christopher currently owns OkraTron 5000, a game audio and voice-over production studio in Dallas, Texas.
Christopher has also lent his voice to countless other roles in the anime and video game world including Alex Louis Armstrong in Fullmetal Alchemist, Roronoa Zoro in One Piece, Ayame Sohma in Fruits Basket, Saiga Tatsumi in Speed Grapher, Kurogane in Tsubasa Chronicles, Daisuke Jigen in Lupin III, Garland in Dissidia: Final Fantasy, Rundas in Metroid Prime 3: Corruption, Alex D in Deus Ex: Invisible War, and both Captain Smiley and Star in Comic Jumper.
When not in the studio, Christopher tries to spend as much time as possible with his wife Tabitha and his brand new baby girl, Hero.
Todd Haberkorn
Voice Acting Guest of Honor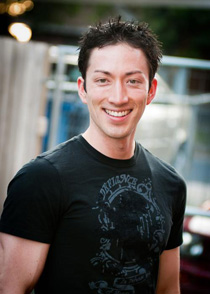 Todd Haberkorn is currently a proud member of the anime community and continues to be its humble servant by way of English dubbing. Haberkorn works primarily in Texas and Los Angeles as an actor, director, producer, and writer. As far as shows go, catch Todd's voice as lead roles in Sgt. Frog as Keroro, Suzuka as Yamato, Ghost Hunt as Naru, xxxHOLiC as Watanuki, D.Gray-man as Allen Walker, Sands of Destruction as Kyrie, Soul Eater as Death the Kid, and some others he can't say right now. Coming up—Todd is the lead role of Natsu, the fire eating, fire wielding wizard from Fairy Tail. Check out most of the shows listed above on Hulu.com, funimation.com, and NETFLIX!! And not illegally please

Be sure to check out TeamHaberkorn.com for ways to join this new "korntastic" fan club! A portion of the proceeds goes to supporting the Acadiana Humane Society, a non-profit, no kill animal shelter in Louisiana. When not in the booth, Todd is a producer with his company, Out of the Office Productions. Todd is represented by The Horne Agency and William Morris Endeavor.
Periscope
Artist Guests of Honor
Terry Blas
– Periscope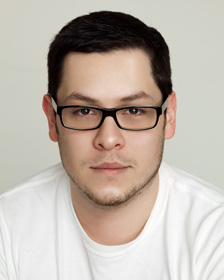 Terry Blas is the illustrator and writer behind the web series Briar Hollow and creator and writer of the series Here Nor There.
His art has been used as a cover for the fourth issue of Adventure Time with Fionna and Cake and Compete Magazine to promote Ben Cohen's Stand Up Foundation, combating bullying and homophobia.
He is the host of the pop culture examination The Gnerd Podcast and is a member of Periscope Studio. He loves comics, movies, unicorns, cheese, and Diet Coke.
Ron Chan
– Periscope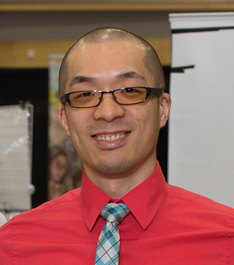 Ron Chan was born and raised in Portland, OR and works as a freelance cartoonist, storyboard artist, and illustrator. He graduated from the Savannah College of Art and Design in 2005, and is now a member of the Portland-based art collective Periscope Studio. His comics work has been published by Dark Horse, Marvel, Image, Virgin, and Viper Comics.
His storyboarding work includes boards for 3D animation, gaming, internal development, user experience design, and advertising, for clients such as Microsoft, Dell, Amazon Kindle, Nike, Konami, and Sega.
Boilerplate
Artist Guests of Honor
Husband-and-wife team Paul Guinan and Anina Bennett have been collaborating in print since 1989. Together they created the groundbreaking science fiction graphic novel series Heartbreakers and the steampunk sensation Boilerplate: History's Mechanical Marvel.
Boilerplate—hailed as "a masterpiece" by The Telegraph and "brilliant" by everyone from Cherie Priest to Mike Mignola—has attracted the attention of producer J.J. Abrams, who plans to base a feature film on the book.
Paul Guinan
– Boilerplate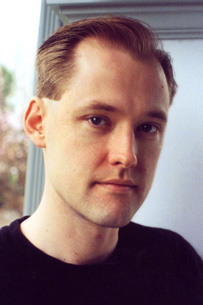 Paul is a multimedia artist and recovering Chicago television personality. He combined his skills in illustration, photography, and model-making with his love of history when he created Boilerplate, the Victorian-era robot. Paul also co-created Chronos, a time travel series from DC Comics, and is internationally renowned as an authority on nineteenth-century automatons. He has done work as an animation background designer, a storyboard artist, and an illustrator for all the major comic book publishers.
Anina Bennett
– Boilerplate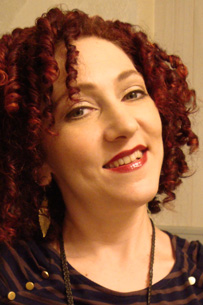 Anina, first published at age 15, has penned five Heartbreakers graphic novels and edited everything from Star Wars comic books to Supreme Court briefs. She also teaches comics writing workshops for students of all ages. Her career has taken her from Chicago, where she cut her teeth at First Comics; to Dark Horse Comics in Oregon, where she worked with author Harlan Ellison; and to Denmark, where she handled Mickey Mouse tales for multimedia giant Egmont.
Paul and Anina were raised in Chicago and have known each other since before the Internet existed. They now reside in Portland, Oregon, with their weimaraner Bowie. Visit them online at www.BigRedHair.com and follow @bigredhair on Twitter.
Jason Thompson
Artist Guest of Honor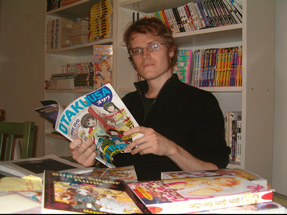 Jason Thompson is the author of the graphic novel King of RPGs (www.kingofrpgs.com), drawn by Victor Hao, and the Eisner-nominated encyclopedia Manga: The Complete Guide. As a manga editor for VIZ and Del Rey, he has worked on the English editions of titles such as Naruto, Fullmetal Alchemist, Yu-Gi-Oh!, Dragon Ball Z, Hana-Kimi, One Piece, Shaman King, Uzumaki, and Sayonara, Zetsubou-sensei. He currently reviews manga for Otaku USA magazine, Anime News Network, io9.com, comixology.com and other publications. He is currently working on a new graphic novel, H.P. Lovecraft's The Dream-Quest of Unknown Kadath and Other Stories, at mockman.com.
Ninja of the Night
Cosplay Performer Guests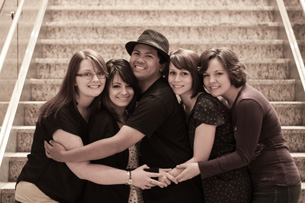 Ninja of the Night (a.k.a. NOTN) is back for more fun! NOTN is a cosplay performance group based out of the Northwest, although its members are scattered all over the country! The five principal members, Kayla [BAT], Mandy [Nutcracker], Krystal [Sumikins], Kathryn [Rynn], and Chris [GaMeReVx] have been together since 2007 and in that time produced 15+ skits, and taken home numerous performance/costume awards and acknowledgments, including 7 Best In Shows, being featured on several gaming blogs as well as G4 TV's "Attack of the Show" for their "Portal" skit. Two of their members also represented the United States in World Cosplay Summit (2010). Now they are here to share their cosplay knowledge as well as entertain! Make sure not to miss their panels as well as their halftime show at the cosplay competition!
FUNimation
Industry Guest

FUNimation® Entertainment is the leading anime company in North America. FUNimation has a proven formula for launching and advancing brands. They manage a full spectrum of rights for most of their brands including broadcasting, licensing, production, Internet, and home video sales and distribution. For more information about FUNimation Entertainment and its brands, visit www.funimation.com.
Dark Horse
Industry Guest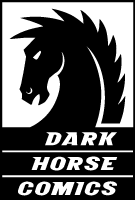 When it comes to comics, Kumoricon is lucky to be in the Northwest and have Dark Horse Comics right in our backyard. This year, Dark Horse is celebrating its 25th year of publishing manga. In 1988, without a translator willing to work on the project, Dark Horse founder Mike Richardson and editor Randy Stradley put together a translation for their first manga, Kazuhisa Iwata's Godzilla. Today, Dark Horse has the two longest running manga series in America, and has been publishing manga continuously for longer than any other publisher in the US. And with titles ranging from Trigun to Cardcaptor Sakura, and Astro Boy to Lone Wolf and Cub, Dark Horse has something for everyone's tastes. So next time you're looking at the manga section of your local bookstore, look for the black knight chess piece logo on the binding.
Kumoricon is excited to have the folks from Dark Horse Comics with us again for 2013!
Please make sure to check out their panels: Dark Horse: Celebrating 25 Years of Manga, Dark Horse Presents: The Changing Faces Of Evangelion, and "It's What You're Into": All Things Oreimo.